Million Dollar Milestone Raffle
Draw Date: April 29th at 8:00 p.m.
at The Pomeroy Hotel
Raffle License #458865
In celebration of raising over 1 million dollars for Sunrise House, we are excited to share this amazing raffle with you. All proceeds will help us continue to make a difference in the lives of youth in our community!
A limited 450 tickets printed at $100/ticket
As a special thank you for your support, Tenille invites all raffle ticket holders to attend a special concert on April 29th at the Pomeroy Hotel following the raffle draw
Ticket Sales Begin Friday March 24, 2017
Buy Tickets
Download Rules & Regulations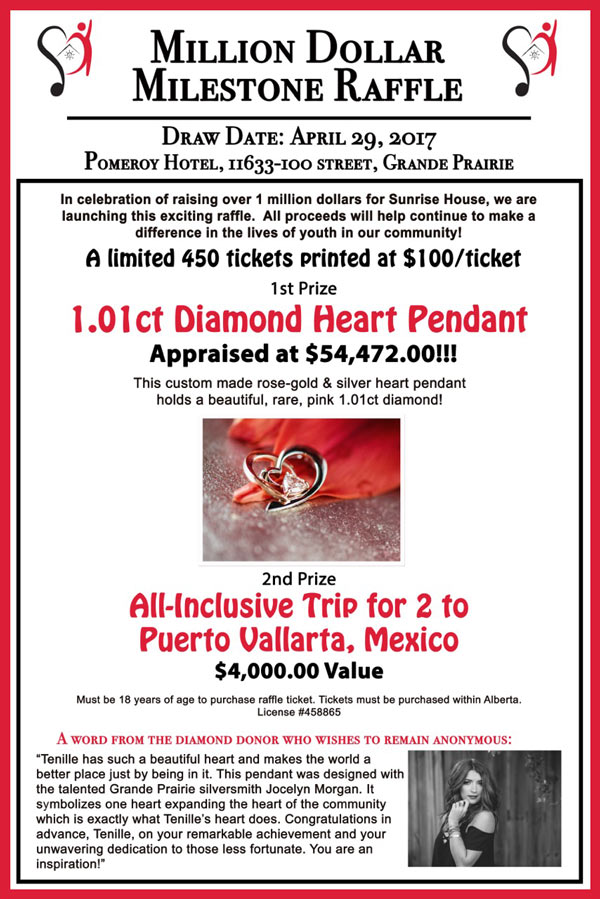 1st Prize

1.01ct Diamond Heart Pendant
Appraised Value: $54,472 
This custom rose-gold & silver heart pendant holds a beautiful, rare, pink 1.01ct diamond!
2nd Prize

All-Inclusive Trip for 2 to Puerto Vallarta, Mexico
Valued at $4,000
A Word from the Donor – Who Wishes to Remain Anonymous:
"Tenille has such a beautiful heart and makes the world a better place just by being in it. This pendant was designed with the talented Grande Prairie silversmith Jocelyn Morgan. It symbolizes one heart expanding the heart of the community which is exactly what Tenille's heart does. Congratulations in advance, Tenille, on your remarkable achievement and your unwavering dedication to those less fortunate. You are an inspiration!"
Ticket Sales Begin Friday March 24, 2017